MAXIMIZE ENERGY SAVINGS WITH OCCU-SMART® MOTION SENSOR CONTROLLED BI-LEVEL LIGHTING
Occu-smart® allows for maximum energy savings. Energy use is as little as 3 watts in standby mode when a space is unoccupied, then lit to 100% brightness for safety upon occupancy.
Occu-smart® is motion sensor controlled bi-level lighting with incorporated custom designed highly sensitive ultra-sonic motion sensor with multi-level LED drivers. Lighting is kept at low energy saving light levels during un-occupied times, with full light levels only when the spaces are occupied. Learn More…
APPLICATIONS INCLUDE:
Stairwells, Conference Rooms, Corridors, Commercial Restrooms, Parking Garages, And more…
Integrate motion sensor technology into your facility!
Most products proudly made in our Central Islip, NY factory!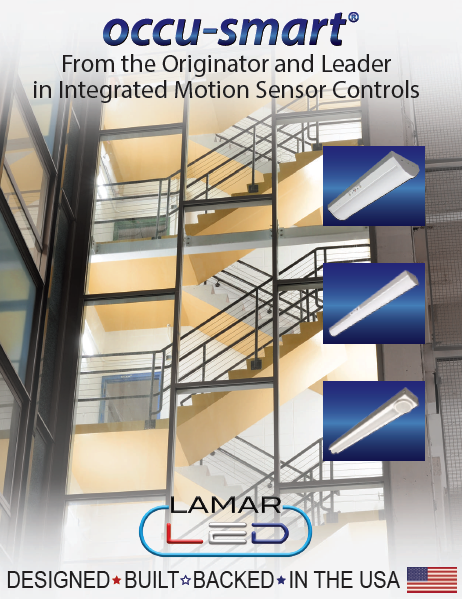 Occu-Smart® is the best choice!
Occu-smart® motion sensor controlled bi-level lighting technology can be integrated into many of our fixtures! We also specialize in custom design and manufacturing.
With over 60 years of lighting experience, LAMAR LED can supply energy efficient solutions for practically any application. 
Visit www.lamarled.com to see our complete product line.
 AMAR
Since 1957, LaMar Lighting (now LAMAR LED), has been an acknowledged leader and innovator in the lighting industry, with a wide assortment of LED and fluorescent fixtures for residential, commercial and industrial use. Specializing in custom design, as well as offering a full line of standard fixtures, LAMAR LED combines contemporary styling with cost efficient solutions for your every application.
Occu-smart® is a registered trademark of LAMAR LED. All units are UL listed and union made. Bi-level lighting units meet requirements of the life safety code and are approved by the NY City Department of Buildings. Whatever your lighting needs, LAMAR LED's experienced lighting professionals are always ready to offer a full range of advanced, energy saving solutions.